Hello Nail Enthusiasts!
It's a little late for Mani Monday, but I wanted to take a moment to share with you the solution to my nail polish storage saga!
A little while ago I blogged about the dilemma I was faced with when what used to be a small polish collection had turned into a HUGE collection and had outgrown it's home.
So, of course I searched and searched online for ideas, but out of all the different ideas I came across only 1 stood out among the rest.
My main criteria: Esthetically pleasing as well as functional without breaking the bank.
At first I was inclined to buy  2 clear acrylic nail polish racks.. like the ones you see in the salons. CLICK HERE: Fuji Acrylic Nail Polish Rack
Buy It Now: Acrylic Nail Polish Rack
This one (Fuji acrylic nail polish rack) fits up to 96 polishes!
I bought 2 of them… put them up on my wall and immediately took them down.
Just wasn't what I was looking for.
So then I went back to my original idea which was to follow the look of this pic., I found on pinterest. (but in white)
The shelves in this picture are from IKEA.
They're called Ribba picture ledges
• 21 3/4″ shelves @ $9.99
• 45 1/4″ @ $14.99
CLICK HERE TO SEE RIBBA SHELVES BY IKEA
Unfortunately the closest IKEA is 45min. away and I didn't feel like taking the drive and wanted instant gratification..
SO, I ran to Home Depot first thing Sunday morning and picked up 4 – 36″ White Picture Shelves.
Home Depot Picture Shelves – Home Decorators Collection
Available In 2 Sizes:  24″  & 36″ (in espresso)
Model # HDCVL24W – white only – 24″
Model # HDVL36E  – espresso only – 36″
UPDATE…. The white shelf above is only available in white in the 24″ & the 36″ is available in espresso only. from Homedepot.com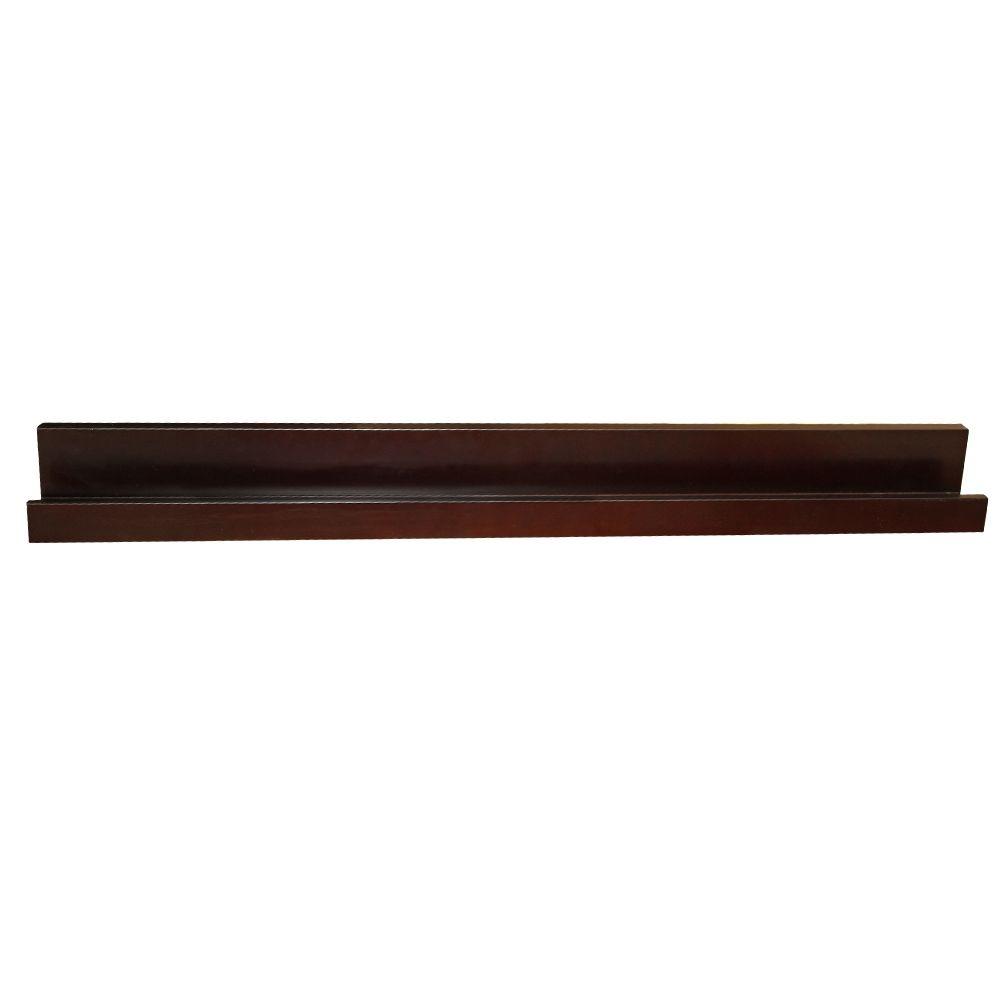 BUT…. You can buy the same exact shelf in 36″ white from hayneedle.com for $20.58.


The difference between the 2 shelves is that you need to drill the Ribba shelf into the wall and the screw shows on the outside of the shelf.  Where as the Home Depot's shelf, slides into screws that you pre mount into the wall so it appears as they really are floating.
And here's what I ended up with!

I'm very happy with the results!  So much so, that I had to run back out to Home Depot to pick up a few additional shelves!  Meanwhile… It's looking like I need a few more!!
If you're looking for a storage drawer solution to store your nail polish collection try out Helmer Drawer's by IKEA! 
Have you had trouble figuring out the best way to store your polish collection?  Need some help or suggestions or just want to share your thoughts?
Let me know!