Hey there nail enthusiasts!
Today's blog post is all about "Gel" Polish
Shellac™ vs. Gel Polish.. What's the difference? 

Fears.. are gels damaging?
Soak-off woes
UV vs. LED
Gel Polish Maintenance
My favorite gel polish systems
Let's start it off…
What is Shellac™?
When people think of gel manicures, normally their first response is … "Do you mean Shellac™?
Just so you know.. Shellac™ is simply just another brand of GEL Polish.  The term Shellac™ has been embedded in consumers brains as the GO-2 for gel polish manicures.  It's gained popularity due to the high volume of advertising and marketing by CND the creators of Shellac™ gel polish.  Shellac™ is just one of many brands of gel polish used by salons world-wide.  Other brands of gel polish carried in salons you may be familiar with are, Gelish®, Gel2, GelFx™ by Orly, GelColor by OPI, LeChat, Young Nails and there are many more.
At your next manicure appointment, don't just ask if they do "Shellac™" manicures.  Ask if they do, "Gel Polish" manicures and then ask, what type of gel polish, do they use?
If you're looking specifically for Shellac™ then ask the manicurist: Do you have Shellac™ gel polish?
Gel Polish Myths
Embarrassedly so, I confess, I am one of those skeptics who have asked the question "Don't Gel Polishes Ruin Your Natural Nails?"  Until attending a 3 hour class on gel manicures and then actually performing my own gel polish manicure on myself and then on a friend did my opinion start to sway.
Take a look at the pics below.  These were taken right after I soaked off my gel manicure.  See, No damage.
The usual complaints that I've heard from people who have had gel polish manicures has been splitting, peeling or weak nails after soaking off their gel polish.
I took these photos after I soaked off my gel polish and prepped my nail using natural oils to  replenish my nail beds.  I noticed a little scrapping on two of my nails… but other than that, I had no damage or weakness caused by the gel polish.  If anything, my nails were stronger and the gel polish actually protected my natural nails.  Something that regular polish just can't do.
I will say this.. You will incur splitting and peeling if your gels are not soaked off properly.   Many gel systems have their own special "soak-off" liquid which is NOT PURE ACETONE.
If you're planning on soaking off your gel polish I highly recommend purchasing a soak-off liquid that is formulated especially for Soak-Off gels.  Many contain ingredients which nourish the nails while soaking, preventing splitting, cracking and excessive dryness which happens when using pure acetone.
Soak-Off Gel Polish Removers
CND Shellac Nourishing Remover
Gelish Artificial Nail Remover (removes artificial nails & gel polish)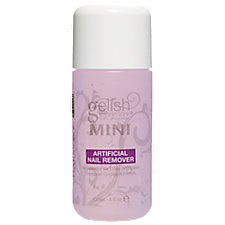 Soaking off gel polish does take a bit of time… about 15-20 minutes max. depending on the gel system.  Many gel polishes say they only take 10 minutes to soak off, but it's better to soak them off completely rather than scraping at your nail which can be extremely damaging.
The key to proper soak-off is saturating a cotton swap or buying the products that fit over your nail containing the soak-off liquid and wrapping your nail with aluminum tin foil.  In addition, cover your hands with a warm towel.  The heat, combined with the tin foil will help activate the solution and speed up the soak-off process.
Some pro's say it helps to lightly buff the nail prior to applying the gel polish remover.
When taking off the gel polish gently push the gel off your nail using an orange wood stick.  Please DO NOT USE METAL DEVICES!!
After you remove the gel polish saturate your nail with oil.  I used a combination of cuticle oil, garlic pearls and vitamin e.  The more moisture the better… this will bring your nails back to life immediately!
Curing Process… UV Lamps vs. LED
Now-a-days everyone is concerned with the after effects from UV lamps.
Just so you know,many gel polish manufacturers are now making LED/UV Gel Polish.
LED Pros:  An LED light can cure gel polish anywhere between 30-60 seconds vs. UV which can take anywhere from 1.5 – 3 minutes
If you have concerns about using UV lamps to cure your polish, ask your manicurist if they can use an LED lamp instead.
If you have to use UV to cure your gel polish, protect your exposed skin by wearing plastic gloves and cutting the tips so only your nail is exposed.
Gel Polish Manicure Maintenance
I can't express how important it is to keep your nails hydrated while wearing gel polish.  Most manicurists recommend to their clients to buy either Solar Oil or Cuticle Oil.
The key to properly maintaining your gel polish manicure and protecting your natural nails is to apply the oil to your nail bed.  You may not know this, but your cuticles will soak up the oil and replenish your nail bed keeping your natural nails hydrated and healthy.  Another reason why my nails had no soak-off damage.. I used cuticle oil daily to moisturize my nails.
Here are a few oils i recommend:
Gel II Cuticle Oil
No Lift Nails – Available at Sally Beauty Supply 

Which ever type of oil you choose, make sure it's hydrating.  I like Gel II Cuticle Oil best because it's organic and is extremely nourishing.
My Favorite Gel Polish Systems
I have only tried a few but out of Gelish, Gel II and LeChat I prefer Gel II gel polish.  It doesn't require a primer or a base coat.  It applies thin and is easy to remove.  My experience using Gelish and LeChat were that they  looked a bit thick on the nail.
You can buy the entire line of Gelish gel polish at Sally Beauty Supply.  LeChat and Gel II can be purchased through local distributors or on Amazon.com
Hopefully you found this post not only informative but helpful when choosing your next gel polish manicure.
Your opinion counts.. Weigh in your vote….
What do you think about Gel Polish Manicures?
Related articles